I find it odd that one of the most difficult things to keep zero waste has been camping. It seems so strange that living in the great outdoors was so riddled with plastic and trash. Doesn't that seem backwards?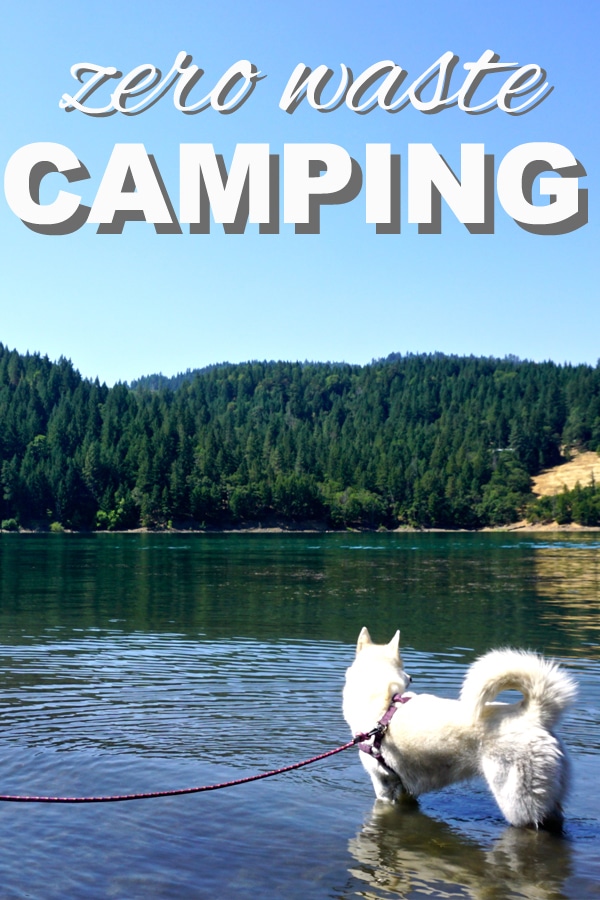 I saw a group leaving their campsite with five full trash bags! Maybe it's just that people are forced to actually examine their waste rather than have a someone else take it "away."
This was my first camping trip, so I had a huge learning curve. Camping requires a lot of gear. Especially when you're about to delve into a very unknown situation. I tried to find out as much about our area as possible. But, there was very little information to be had.
Having never gone camping – I wasn't so sure I was going to like it.
Good news! I loved it. But, I didn't want to buy all new "used" gear just in case I didn't like it. I only bought two things, and was able to borrow the rest or use what we already had around the house.
I bought a water jug from the thrift store and a new leash for Nala. We got the leash from Wolf Pack Supply Co. They're awesome. They have a lifetime warranty on their leashes and donate a bag of food to a shelter for every purchase. Plus they're made in NoCal. Yay, for supporting local businesses!
Our bookkeeper at work had a whole bunch of camping stuff she doesn't use any more. She just gave it to us. And, what we were missing we borrowed from another co-worker. Never underestimate asking your friends! They probably have it and are willing to let you borrow it.
Just make sure you bring it back in better condition than you got it. And, throwing in some cookies or taking them out to get a beer or coffee as a thank you – is definitely encouraged. Let's grow this sharing economy people!
In the end, I tried to be as prepared as possible. There's the good, the bad, and the well deserved. But first things first – the gear.
the gear:
(1) 8 Person Tent: I know what you're thinking, no one needs an 8 person tent. But, let me tell you, it was awesome. I am so glad we had it. It was super easy to set up and fit two people and a dog nicely. Living out of a suitcase can be super messy. So the extra space allowed for some semblance of organization.
I've had the tent for several years. Justin and I had planned a camping trip when we first met, but we never went until this year.
(1) Queen Size Air Mattress: If you were keeping up with me on snapchat, you know we left this behind…. But, we hadn't gotten very far (10 miles?) And, decided we should turn around and go get it. However it being 4 o'clock it took about an hour to get back. Yikes. But, it was worth it.
If we had sleeping bags, we might have used those. But, we don't. So, we used the air mattress and sheets we use for guests.
(1) Hammock: This was for Nala. We bought a hammock at Costco our first year in CA. We kept it in the backyard. It eventually became Nala's favorite spot. We brought for her to lounge. But, it's totally unnecessary.
(2) Folding Chairs: We are so fortunate that a coworker let us borrow two very nice folding chairs! Definitely an essential.
(1) Stove Top: We got this from another coworker. I preferred cooking over the fire. The fire pit came with a cooking grate. I had no idea that would be there. So, it wound up not being a necessity, but it was nice not to have to light a fire for breakfast. We also brought along one cast iron skillet with a lid and a wooden spatula. Along with three plates and all of the normal silverware.
(1) Cooler: We also got this from a coworker. And, I did not do well at coolering.
(2) Lanterns: Also from a coworker, and they were some vintage lanterns. They had some expired batteries inside. We'll be recycling those at Best Buy. We bought some new batteries that came with a small plastic film. I think Justin threw it away before I could save it for my trash jar though.
(1) 2 Gallon Water Jug: This was the only item I purchased specifically for the camping trip. And, it was a total lifesaver. We filled it with water before bed and put a charcoal filtering stick inside to filter it. Then we used it like our own personal faucet! I got it at the thrift store for $5. Woot, woot!
the good:
This was awesome. We kept it super minimal. You can read more about it on this blog post. I was very happy with my sunscreen an average SPF of 30 and bug spray. I came away with three bites. Two on my neck and one on my face.
I would never spray regular bug spray on my face, but with what I made – I'd feel totally comfortable. Note to self: Apply to face next time.
I did get one ant bite on my foot. But, after four days in the woods – I'm pretty happy with those results.
clothing:
I was a little over prepared. But, I did well for my first time, I think. I had hiking boots and flip flops. I wore my flip flops traveling and just in case I decided to jump into the lake. Which I didn't.
restaurants:
We ate out twice on the road. After trying 4-5 places we finally found a place that would let us sit outside with a dog! We're in CA. I thought all outdoor seating was dog friendly. But, we struggled. Thankfully we settled on an awesome little diner with an amazing veggie burger and chocolate cake – on real plates!
And, we also got donuts. YUM. They were so cool with placing it in my tiffin. We also needed to fill up our water bottles. I noticed they didn't have a soda fountain. I asked if they had any water I could fill my kanteen up with. They said, in the middle of the bottled water in the refrigerator case there was a large pitcher. It was filled with filtered water. SCORE. Sometimes you just have to ask.
the bad:
ice:
In Arkansas we have tons of little drive through ice stations. Where ice just falls out of a chute. We were not so fortunate here. We got a couple of plastic bags of ice for the cooler.
cooler:
I didn't want to bring a lot of glass camping. So we packed things in open stainless steel bowls and my tiffins. But, the tiffins in the cooler weren't water tight. So, as the ice melted we were left with a lot of soggy food. Which we ate – cause zero waste! But, I will definitely do things differently in the future.
We also brought way too much food. I brought a little too much. But before we left Justin opened the fridge and just kept throwing more stuff in the cooler…. lesson learned.
the well deserved:
beer:
In trying to avoid glass, we left the growlers at home. Also, it doesn't seem super practical to bring a growler or two on a camping trip. So, we bought some cans which we recycled!
Surprisingly, there was no recycling available at the camp site. We made sure to bring them home and recycle them.
smores:
If you've ever read an interview I've done, then you know the answer to this question. "What is the one thing you miss since Going Zero Waste?" And, my answer is always the same. "Smores."
I love them. They're the perfect treat. I'm all about the perfect bite. And, a smore is definitely the perfect bite. They're gooey, sweet, and crunchy – Mmmmm! Beyond being the perfect campfire accoutrement, they're also riddled with childhood nostalgia.
And, without any shame I bought a bag of marshmallows, a couple of bars of chocolate, and some classic graham crackers. If I can get the plastic wrap clean, I will proudly place that in my trash jar.
And, I'll be honest with you… they weren't as good as I remember. So, I'm probably set for the next couple of years on smores. But, it was totally worth it.
Life is about balance. What do you think?
All in all, I loved camping. I really enjoyed getting to relax and spend time in nature. It was so rejuvenating. I loved being completely technology free. I spent a lot of time reading, walking around, and doing a whole lot of nothing. It was amazing, and I can't wait to go back.
Have you gone camping? What are some of your necessities?