Welcome to the GZW gift guide of 2019! Creating gift guides every year is one of my favorite blog posts to write.
Both my mother and I have the love language of gifts.
And, I've worked to reconcile that with adopting a more minimal and low-waste lifestyle to the point that my love language has probably shifted to acts of service.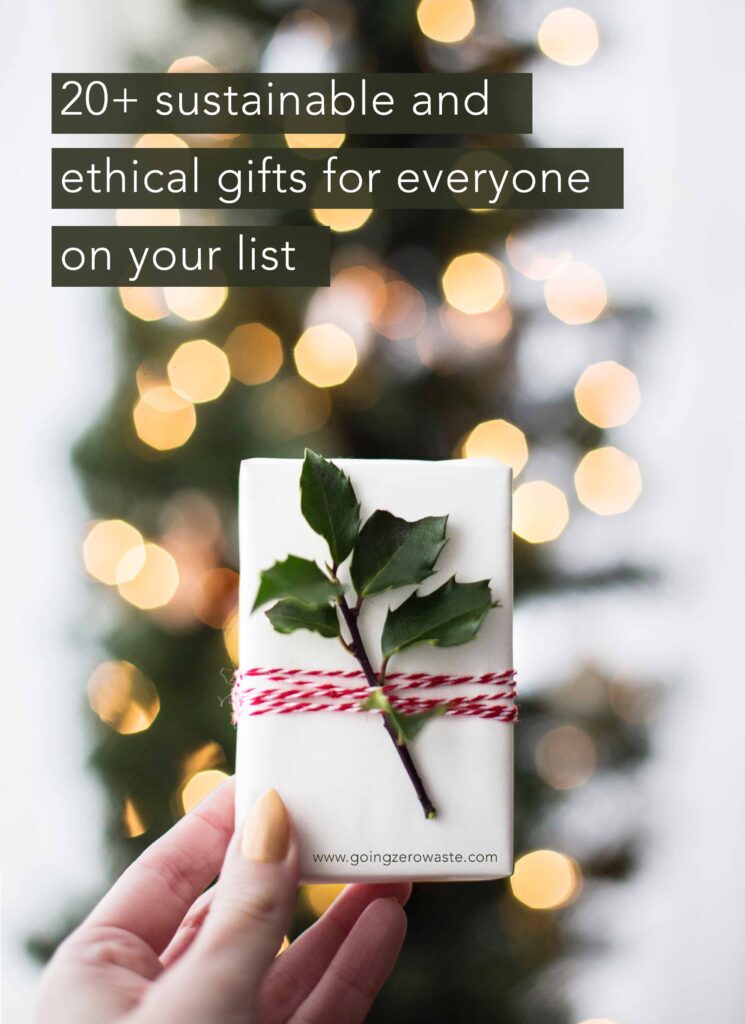 This post was sponsored. Some of the links below are affiliate links for more information please see my disclosure policy.
But, the fact remains, I still love gifting and receiving physical gifts. I love gifting experiences and consumable gifts, but I also love giving physical things too.
Gifting physical gifts is a rare opportunity to spread the sustainable living message in a kind way.
I have gifted small reusable items like straws or beeswax wraps (both of which are going to be in my stocking stuffer guide coming out on Friday!) and watched my non-eco parents and friends love the products SO much that they started adopting more zero waste habits.
If you've ever gifted a zero-waste swap, then you know what I'm talking about!
I've divided this blog post into a few separate categories so you can easily find the perfect gift for everyone on your list.
gifts for the adventurer

gifts for the home

gifts for the budding environmentalist

gifts for the fashionista

gifts for the foodie
There will also be a stocking stuffer post coming out this Friday for smaller gifts so be on the lookout!
gifts for the adventurer
One of my New Year's resolutions for next year is to get outside and explore more.
I think there's a direct correlation between being present in nature and wanting to preserve it.
As an added bonus, getting outside also helps to decrease stress.
So, if you're got a stressed-out friend who could use some fresh air or a little escape out of town here are a few gifts that might pique your interest!
gifts for a new home or apartment
When I moved into my first place with Justin we had absolutely nothing. I'm talking air mattress on a floor all- of-our-stuff-fit-into-the-trunk-of-the-car NOTHING.
I would have loved to have received some plush sheets or a new mattress so whether you're building a hope chest, know someone who's about to graduate college, or someone who just got their first apartment, these are some great gifts that will turn a house into a home.
gifts for the budding environmentalist
When I first started going zero waste I was on a super tight budget.
Most of my fancy zero-waste items were given to me by friends and family during Christmas.
So whether you're trying to foster someone's love for the planet or start spark these are some great presents that will keep on giving.
gifts for the fashionista
When you think of sustainable fashion, you might think about oatmeal-colored, shapeless sack dresses.
Well, I am thrilled to let you know that the sustainable fashion scene is rich with interesting textures, shapes and you can find something absolutely PERFECT!
gifts for the foodie
I LOVE good food. I mean who doesn't?
I love simple pleasures like my homemade morning latte traditions which are always made with tea instead of coffee as well as getting to whip up a feast and entertain a crowd.
I mean, I think you'd have to, to have hosted Thanksgiving dinner for the last five years. So, here are a few of my favorite kitchen items.
I really hope you enjoyed my gift guide this year! I'm going to link to a few more holiday posts below, and stay tuned for my Stocking Stuffer guide that's coming out on Friday!