I am officially in the phase of life where all my friends are having babies.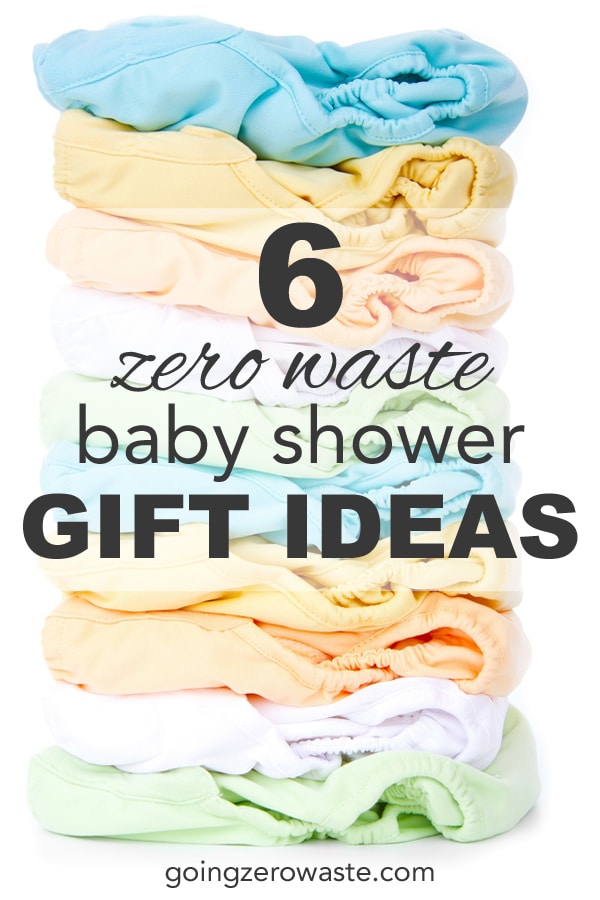 I went to a lovely baby shower this past weekend. It's my second one this year. I've gotten in the habit of stashing a small metal plate in my bag (Like this one*), and I always have a water bottle on hand. (like this one*)
I can put snacks on my own plate if necessary, but most of the baby showers I've been to have heavily relied on finger food. It's super easy to munch without a disposable plate. Actually, it's pretty easy to munch without any plate! I haven't had to use a plate at a baby shower yet.
Attending the shower is the easy part. Buying the gifts, on the other hand, has presented a little bit of a challenge. The couple this weekend is cloth diapering (which I love!), but the other couple was not.
I also want to state, that there is no judgment here. Of course, I think it's great to use reusables, but I understand it's not feasible in every instance. Having moved into a place without a washer and dryer, I can definitely understand how challenging that would be.
Both couples had diaper raffles. I personally could not bring myself to purchase disposable diapers. I also didn't want to purchase anything not made ethically or in America. I didn't want to buy anything made from plastic or overly packaged either.
I'm sure you can see my internal checklist is eliminating a lot of options. If you have a similar internal checklist, then this list is for you.
1. diaper service:
Diaper service was recommended to me by one of my readers. When going to the baby shower this past weekend, I knew this was the perfect gift!
The couple wants to cloth diaper, but have been a little nervous about all the laundry. The diaper service will drop off 80 cloth diapers. You'll change the baby and place the dirty diapers in the "dirty" bag they provide.
Once a week they'll swing by and pick up the dirty diapers and replace them with clean ones. I'm not sure if all diaper services work the exact same, but I'm sure they work similarly.
I had a super pleasant experience getting a gift card set-up with Tidee Didee Diaper Service. Customer service was spot on. They service a large portion of the bay area, and their prices are very reasonable.
If you're hesitant to cloth diaper because of all the laundry, you should definitely look into a diaper service. It's also a great gift to bestow!
2. books:
One of the baby showers I went to requested children's books instead of cards. Each book had a sweet little note written in the front to the baby.
I thought this was a lovely idea. The library is great to check out new books for your little one, but it's also nice to have a couple always on hand. When I first moved out to California, I nannied for several months. We would stroll down to the local library and check out all sorts of books.
My only reservation about writing in the books, is some people are deterred from purchasing books with "flaws." I love buying second-hand books that have notes in them, but some people don't.
What do you think? Would you be deterred from buying a book that had writing in it?
3. blankets:
A couple of the moms at the baby shower said, "You can never have too many baby blankets." I don't know if that's true. But, what I do know is baby blankets make great "wrapping paper."
Instead of going with traditional wrapping paper, tie your present up with a cute baby blanket or an organic crib sheet.
Growing up my mom and I would always make sure our wrapping was a present too. Think about putting your gift inside of a diaper bag, a basket, a diaper stacker or even a sheet set.
4: baby clothes:
Babies go through clothes really fast. It's really easy to pick up like new baby clothes at consignment shops or second-hand stores.
It's also really easy to find adorable, organic, and ethical baby clothing online. Some of my favorite shops are listed below.
5. cloth diapers:
If you know the baby is going to be cloth diapered, buying cloth diapers is a great gift! If you know the baby isn't going to be cloth diapered, I wouldn't recommend making this purchase.
Cloth diapers use a lot of resources to produce. If you know the couple won't use them, you don't want to drum up those resources unecessarily.
6. stick to the registry:
I think registries are great. Couples can register for exactly what they want. So, even if nothing fits into your personal criteria, at least you know that you're buying something the couple will use.
Having an item that is wanted and used is almost more important than having something that fits into the ethical/sustainable criteria but will go unused.
---
Of course, there are a ton of other options! This only barely scratches the surface. I am not a mother nor have I been on the receiving end of a baby shower.
If you have, I would love to hear all of your thoughts! What are some of the best gifts you've given or recieved from a baby shower?
If you're looking for some zero waste mama's to follow I can highly recommend Meredith from Meredith Tested, Anna from Not Made in China Challenge, and Erin from The Rogue Ginger.
This post contains affiliate linking. It's denoted with an asterisk. You can read more on my disclosure page.